How do I know if Scor! is right for me?
Just Ask! Email us or call 877-726-SCOR (7267). Talk with String Faculty about your questions.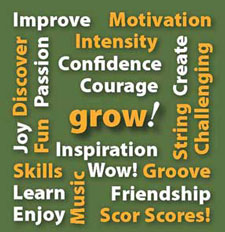 WhyScor!
Come to Scor! and experience a unique and exciting opportunity to learn & grow through lots of music making. Scor! is designed especially for adult learners, but we still call it "camp" because we have such a great time & intentionally create a relaxed, fun atmosphere. We provide top-notch instruction for string players in areas such as chamber music, orchestra, physical skills, rhythm, improvisation, and lots more!
A recent "camper" at multiple locations says: "There is NOTHING like their camps (Scor!) anywhere in the country." -K.A.
What do you call it? ...Chamber music camp? Fiddle Camp? Cello Camp? Violin Camp? Orchestra Camp? We've heard our campers describe Scor! all these ways. Scor! mixes all of these ingredients, so we call it "String Camp". So it is all strings, but what about that "Camp" part? You might be used to the idea of a chamber music workshop, or a violin conference, but those might sound too much like a job! So "String Camp" it is.
String = involving music made with strings (violin, viola, cello, bass)
+ Camp = Fun, learning, relaxed environment, friends, and more! (whoever said camps are just for kids are kidding themselves--and missing out!)
+ .com = www.StringCamp.com -- this Scor! website is your destination to learn more about your next musical adventure packed with opportunity musical and personal growth. Welcome!

Scor!GiftCertificates
Give the gift of music, learning, laughter, & friends to a loved one--give the gift of Scor! Redeem the certificate towards any Scor! camp! (Certificates never expire. A PayPal account is required to redeem the certificate--it's easy to sign up.)

Scor!NowCoast-to-Coast!
We're excited that Scor! is now nationwide! Find a Scor! Camp Near YOU!, See our Camps page for information. We're offering a dozen Scor! Camps across the Northeast, Mid-Atlantic, Southeast, South, Midwest, and West Coast. Scor! is such a great opportunity, we want to make it possible for many people to attend with a reasonable-length trip! Now with a camp in both Northern and Southern California, Scor! is easily accesiible to the millions of people who live in those regions.
While on tour, we also offer Express!--inspiring musical programs for kids. Learn more about Express! at www.ExpressArts.org.

Express!MatchingGift
We've received a $2,000 matching-funds commitment from a long-time generous Scor! camper in support Express musical programs for kids. Express! has thus-far been in the "pilot" stage and has needed further systems development to launch as a fully functioning program area.
You can double your dollars with this matching gift, & with your support, we can launch Express! The result? Thousands of kids around the nation will benefit from inspiring & educational music programs, and music teachers will benefit with fresh ideas & motivated students. Please see the new Express! Support page for details.

2016CampDates: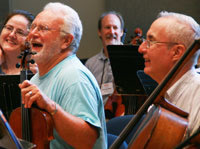 We are working every day to put on exciting and fulfilling events for the 2016 season. We're thrilled that five out of twelve Scor! Camps sold out this past season--a new record! Thanks to all for a great 2016 season!. You can view past dates & locations at our Camps Page. To see summaries of this year's (or sometimes past season's camps), see our 'Camps' page and loook for updates by Facebook & e-news. To make sure you get next season Scor! dates, info, & notice of when registration opens, string playing tips & more, sign up for Scor! news to receive the latest event information.


Picture: Cello Ensemble at the Rochester Scor! Camp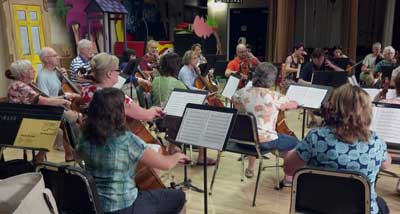 View All Camps Here.
Rochester Scor! Camp July 12-16, 2016. The Original Scor!. See all Scor! camps here. Rochester, NY. This original Scor! Typically the largest Scor! Camp, Rochester Scor! is packed with diverse ensembles, sessions, and opportunities for growth. Options for up to 5 days packed with string playing & learning. Multiple distinct tracks to accommodate your playing level. Numerous qualified & enthusiastic teachers.



Thanks Camp Sponsor The String House for their generous support of the Rochester Scor! Camp.



Where can I find Scor!Camp Info?
CLICK HERE for our Camps Page, then click on a Scor! Camp. You'll find 4 pages full of info on each camp, including Schedules, Fees, Offerings, Faculty, Hotel Options, and more!
Scor! is a program of Symerge, not-for-profit corporation. Learn more...



About Symerge


Get involved... Volunteer!


Contact Info


Become a Business Sponsor