GasCanFund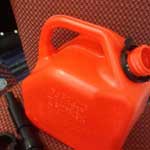 Help bring Scor! over 12,000 miles acrosss the nation through your Gas Can gifts. This crucial fund enables us to plant & nurture new camps as they are in their formative stages. Hundreds of people benefit from your investment here!
Every bit helps in reaching our $3,500 Gas Can fundraising goal, helping to fuel the rig by which Scor! travels to each camp, enabling many of you to drive only short distances. These fuel costs aren't fully covered by tuition dollars, so we need your help to 'fill-'er-up'!
Did you know?
A full fuel fill-up of the rig for Scor! typically costs about $300.
We (Scor! founders, the Bultmans) travel an average of about 850 miles per Scor! camp, currently costing about $350 in fuel per camp.
Our model of travel is the most efficient and inexpensive means to offer Scor! camps across the country. The alternatives are substantially more costly.
Scor! needs a "Fill-up"-- donate $20, 35, $50, $75, or more! Use the donate button below, or see other giving methods to the left.
Thanks to everyone who has helped 'fill the tank' in 2017 so far!
ThanksTo to many generous supporters like you for your support in our 2016 season! Help us complete the 2017 season with your gift today. We can't do it without you!!!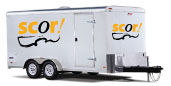 Thanks to contributors who gave over $1,200 last season! Please consider helping us reach our $3,500 2017 season goal to fund this crucial equipment.
Help Build & Maintain the "Scor!-Mobile":
Once-upon-a-time, Scor! was one camp in Rochester, and all the supplies fit in one tote-bin. No longer! Bringing Scor! to many cities requires hauling lots of music, supplies, merchandise, signs, instruments, literature, and equipment. Scor! needed a bigger "tote bin"--a Scor!-mobile!

Remember "Book-mobiles?" When you couldn't get to the library, the library came to you. Well, not everyone can come to one Scor! camp far away, so we're creating a "Scor!-mobile" which brings Scor! to you & your string-playing friends across the country!
The Scor!-mobile is an appropriately equipped cargo trailer-- Scor!'s mobile storage & 'work-room' facility Currently we are utilizing an un-finished trailer, which will be gradually 'built out' to meet our needs. This year's needs in maintenance & upgrades include:
$700 to cover various repairs not paid by insurance.
$800 to go towards the initial cost of the trailer itself.
$220 for two new tires. Yes, we've worn out a set of tires just driving to every Scor! camp!
$90 to replace a metal step damaged by a road hazard.
$150 for new LED rear ramp lights, to help keep us from falling during after-dark camp 'tear-downs'.
A basic low-voltage electrical system for better lighting. (approx. $125 + $135 for a 12 volt battery & case)
Bright, efficient LED interior lighting (approx. $200).
A basic high-voltage (residential type) electrical system for running a fan & future air conditioning. (approx. $300)
Insulation (approx. $400) & air-conditioning (approx. $1000). Why? We now offer camps all summer long, as summer is the best time for many of our clients. However, the trailer becomes a 'hot-box' of over 100 degrees that is nearly impossible to work in during summer heat. We need your help to rectify this problem!
Help share musical and personal growth opportunities by becoming a Scor!-mobile Builder today!
(chart as of July 7, 2015)... update coming soon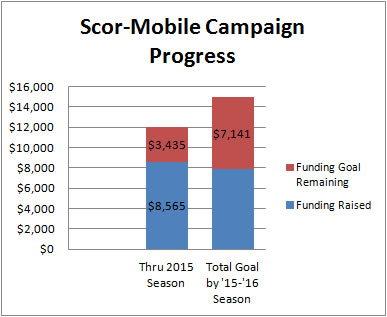 $75: become a Scor!-Mobile builder.
$125: build a square foot of the Scor!-Mobile.
$250: build 2 square feet of the Scor!-Mobile.
Donate securely via PayPal with the button below. No PayPal account is required to donate by credit card.
Business sponsor/advertising partners. (String shops, manufacturers, etc.) Contact us for more information.


MatchingGift
We have received a matching gift committment of up to $2,000 from a long-time Scor! Camper (anonymous) in support of launching our Express! program for kids. For a limited time, all donations received will be matched dollar for dollar.
Double your gift today, & enable great musical opportunities for thousands of kids around the country! Learn all about Express! at www.ExpressArts.org. Donate using a button on this page, or go directly to our Express! Support page.


TheScor!Orchard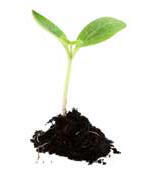 Enable transformation, confidence, courage, discovery, improvement, camaraderie, and friendship this year through Scor!!
Scor! needs your help to start our 2017 season strong. We've expanded our camp offerings to enable Scor! to be financially sustainable in the long run. We've seen record growth this past year and this year. However, in the short term, expansion costs still exceed revenue. You can make a crucial difference in helping young Scor! camp 'seedlings' take root untill they become mature--like an orchard with great fruit!.
Expand the reach of Scor! with a tax-deductible $30, $50, $75, or $100 gift. Or, check out our Scor!-Mobile campaign gift levels farther down this page. We greatly appreciate any amount you can share with Scor!
Venue Sponsor, $500+: Your Venue Sponsorship offsets facility rental costs we incur. It's a great way to demonstrate your support of Scor! in your area! Let us know which camp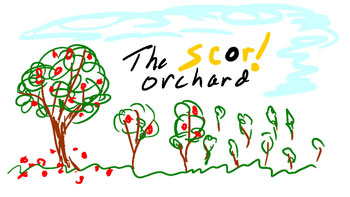 you'd like to sponsor.
Camp Sponsor, $1000+: Your Scor! Camp Sponsorship makes it possible to offer a Scor! camp.. It's a great way to demonstrate your support of Scor! in your area! Let us know which camp you'd like to sponsor.
Donate securely via electronic check (blue button at left), or via PayPal with the orange button at left. No PayPal account is required to donate by credit card.

Donate wish list items below, or see more details above and to the left. Donate securely via PayPal with the button below. No PayPal account is required to donate by credit card.
Wish List Highlight Item: Heavy-duty small Totes: ($25 each). We use these sturdy totes to pack & haul most of the gear needed to put on a Scor! camp. We use over 40 of them to protect everything from sheet music, Scor! brand clothes, music stands, and tons of other things! We're working to replace all the old worn-out cardboard boxes with these totes & need your help to do it!