If you have a question that's not listed here, please contact us. We want to help!
Question about Scor!?
Email us or call 877-726-SCOR(7267).
Q: Who is Scor! designed for?
A: String-Playing Adults! If you're an adult string player who is open to learning & wants to have a fun musical experience, then Scor! was designed for you! Scor! is perfect for most adult amateur string players. We have options for beginning through advanced players. Numerous string teachers have also enjoyed attending to have fun playing, and get some fresh teaching ideas.
Q: What instruments are included?
A: Violin, viola, cello, and bass.
Q: How will I know if Scor! is right for me?
A: You can read up on our event websites all about the schedule, offerings, fees, faculty, and levels at Scor! (Click here for the Camps Page.) But the best way to find out is...well...just ask! Please call or email us (see left panel). You'll get to talk to a Scor! faculty member who's taught at all the camps and can readily answer your questions. Plus, we're really friendly! :-) (If you don't reach us in person, please leave a message, as we have a small staff and may not be able to take your call immediately.)
Q: I am afraid to come to Scor! Actually, I'm terrified.
A: You are not alone. 90% of all first-time Scor! participants are, in a word, nervous, anxious, or just plain freaked out. We understand. (That's why it's so awesome when you can come and meet others just like you!) You may carry fear & hesitancy from your musical past, but that's not what we're about. Scor! is different. Our main mission is to replace that fear with joy and confidence. To that end, the Scor! environment is intentionally fun, friendly, encouraging, non-judgmental, helpful, nice, low-pressure, and supportive. As recent registrants have said: "It's now or never!" & "I might as well live a little." & "I'm gonna take that leap!" We welcome you to join them.
Q: Should I wait to come until I get better?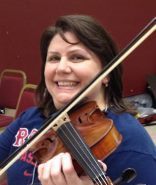 A: Absolutely not! Scor! will give you many of the tools you are looking for right now to improve! Don't miss out on growing even faster because you came to Scor!
Q: Do you have faculty for my instrument at Scor!?
A: At each of the Scor! Camps, we have faculty that play & specialize in violin, viola, & cello. At the Atlanta & Rochester Scor! Camps, and sometimes at other locations, we also have bass faculty. You have the option to sign up for a private lesson with a faculty member in your instrument, or simply receive instruction and coaching from these faculty during the camp. You'll appreciate the expertise & friendliness of all our faculty, and gain a lot from working with each of them, regardless of their main instrument.
Q: Is Scor! worth traveling for?
A: YES!!! Campers often travel 2-6 hours to participate in Scor!. Here's our story... Our original Scor! Camp in Rochester, NY drew travelers from 15 states & provinces. But we realized that so many more people could benefit from Scor! if there were many more available Scor! locations. That's why we set out on the road from Rochester, NY to bring Scor! around a good part of the country. Now that we have 12 locations, we have hopefully made it easier for you to join us. We invite you to meet us partway & experience all the growth, music, fun, & friends that Scor! has to offer!
Q: Is Scor! the same every year?
A: Nope! You can learn something new each year! Look for some brand new session topics this year at Scor! to help you keep improving. With different ensemble music, session topics, teachers, and friends, every year is unique at Scor!.
Q: Are there both adults & kids at Scor!?
A: NOOO!!!!! Scor! is just for ADULTS!!! That's what makes it so special! Scor! was designed from the ground up as a string camp for adults. There have never been any kids at Scor! & there never will be. This is great news for you, adults. No kid staring at you or in your classes; no irrelevant or juvenille instruction meant for kids, no feeling embarassed next to a young hot-shot. At Scor!, we have created an environment where you feel safe & you belong as an adult.
Some camps have both kids & adults in attendance, and while that can be neat, it is also very difficult in that environment to meet instructional needs all around. We love kids (that's why we do Express!), but Scor! is all about meeting you where you're at - meeting your needs & desires as an adult string player.
Q: How do I know if I'm good enough to come to Scor!?
A: Well, in our Basic Tracks at all our camps, we welcome you if you had just 6 months of study or more, so it's hard not to be good enough. We also offer 2 or 3 tracks at each camp to accommodate your level. We'll even help you choose the right one! (For level descriptions, click here.)





Q: Who comes to Scor!?
A: Teachers, nurses, grandparents, business-people, folks of all ages (18 - 80+), bankers, lawyers, parents, engineers, lovers of string playing, professors, homemakers, rocket scientists, retirees, music afficianados, IT professionals, administrators, & more! Why not you? (Rochester Scor! Camp pictured below)

Q: Is there Chamber Music at Scor!?
A: Chamber Music opportunities are plentiful at Scor!. For the most complete chamber music experience, attend Main Camp. Otherwise, try out the 2-day Chamber Music Workshop (most locations) or the Chamber Music Pre-Camp (Rochester). Look forward to these opportunities:
Chamber Music Coachings: Your group will develop under the expert tutelage of a professional coach through daily coachings.
Chamber Music rehearsals: Practice applying the advice of your coach & make music with friends.
Chamber Music at your level: Your group & music will accommodate your level. Chamber Music is neither easy nor difficult by nature - the level is simply customized to the individuals in the group.
Chamber Music Skills Class: Unraveling the mysteries of the pros.
Chamber Music Reading Session: Sight-reading extravaganza (optional).
Chamber Music Library: Find some friends & read on your own!
Q: How can I find out about a certain camp?
A: Please visit our Camps Page & click on the camp you'd like to know more about. (You can register from there as well.)
Q: Can I talk to a real live person who can tell me a lot more about Scor!?
A: Absolutely. Anything you need to know. You'll get to talk with a faculty member who has taught at all the camps. Call 877-726-SCOR(7267). (Thank you for your patience and your willingness to leave a message, as we have a small staff and cannot always answer the phone immediately but will call you back as soon as possible.)
Q: Can my spouse or friend come along if they're not a 'camper'?
A: Sure! You are welcome to bring someone along to watch. He/she can register for the event as a "non-attendee spouse/roommate" if he/she needs to order meals or lodging. Options include meals, plus special events, depending on location. Many interesting things to see & do can be found in the areas of Scor! Camps.
Q: What kind of faculty do you have at Scor!
A: Our faculty are highly qualified with, in many cases, multiple music degrees from prestigious music schools and years of professional teaching experience, and are also very friendly & musically passionate people. Enrich your life by getting to know them.




Q: What can I do to prepare musically for Scor!?
A: There are no required preparations but we recommend you address a few of the following in preparation:
Get "In Shape". You'll be playing a number of hours per day at Scor!. If you've been busy and haven't played much lately, the motivation of Scor! approaching is a great excuse to get those fingers limbered up (& thicken those calluses!), review some of your favorite pieces, and generally get your body ready for some longer playing days.
Sight-read. Play some new music. The best way to get comfortable sight-reading is to do it.
Metronome. Play with a metronome to strengthen your sense of pulse. When playing with others, there's nothing more important than pulse.
Scales. Play scales in different keys. Listen especially for producing a good tone & accurate pitch.
Instrument. Take care of any required instrument maintenance such as changing strings or having your bow re-haired.
Make a Goal. Especially if you are signed up for a private lesson, give a little thought to what you'd like to address with your teacher. Plus, make a (reasonable!) goal for something you'd like to learn/improve/experience while at Scor!.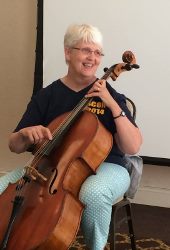 Q: Should I take off work to come to Scor!?
A: We understand how busy & dedicated many of you are at your jobs. That's why most of our Scor! events are partly on weekends. However, we invite you to take a few days off to experience a whole Scor! Camp. We like to think of it like this - at Scor!, you'll do something unique, fun, special, memorable. You'll be investing in your playing & your growth. And you'll be creating lasting memories. At work you'll be, well, working. We figure that next month or next year you won't remember what you did at work that day, but you'll still fondly remember Scor! & still be reaping the benefits of attending.

Q: Is Scor! like my community orchestra rehearsal?
A: Not really. Scor! does incorporate lots of ensemble playing, so in some ways it resembles an orchestra rehearsal or a chamber music reading session. But Scor! is much more than that. Rather than rehearsing music little by little to prepare for a concert, Scor! is more of a retreat - an immersion experience. Scor! ensembles learn music together and receive coaching & instruction from top-notch faculty along the way. Instructional sessions are peppered in to the experience to help you further develop technically & musically. Pivotal ensemble-playing skills are addressed & practiced so you can better contribute to any ensemble. And don't forget - it's fun to meet & spend time with others who are playing strings just like you. Scor! combines the instruction of a private lesson or coaching, the fun of a camp or retreat, and the musical fulfillment of ensemble playing. Learn, grow, & be inspired!
Q: Is Scor! a good value?
A: Scor! offers great value, campers say. Pat says "Scor! was well worth every penny! " and Charlie says "Scor! was worth every bit of my time & money." Here are a few reasons:
Scor! faculty have music degrees from some of the country's top music schools, are highly trained and experienced educators, and you get an all-in-one experience with them for a few days for one relatively low price.
For the cost of 5-7 hours of private lessons, you get 15-18 hours of unique & valuable hands-on instruction on a variety of fascinating & unique topics, plus more - ensemble playing & instruction from national leading adult string educators.
At Scor!, you won't just learn the same things you're learning in private lessons or orchestra rehearsals. Learn the secrets of professional chamber musicians and much, much more that is not typically taught in lessons or orchestra.
Coming to Scor! is not just like an orchestra rehearsal. It's more like an immersion experience. You get invaluable instruction to improve your playing for life, not just improve the piece you're currently working on.
The Scor! experience is tailored to you. As expert teachers, our faculty will customize instruction to the level & desires of their present students. Bring your questions.
Make friends & gain connections for more playing in your local area. Musical camaraderie & friendship have untold value.
You'll never know how valuable your Scor! experience is until you try it!
Q: When you say camp, do you mean cabins in the woods?
A: No. We mean a fun, festive, and friendly atmosphere that helps you be relaxed & enthusiastic, maximizing your learning. Where necessary, we try to obtain primary facilities that are air-conditioned for your comfort.
Q: If I fly in, how will I get to the Scor! event location?
A: We recommend taking a taxi or hotel shuttle from the airport.
Q: If I fly in and don't rent a car, how will I get back and forth between the event facility and the hotel?
A: You may be able to ride-share with another participant. When registering, click the check-box indicating that you'll need rides, and we will help connect you with other campers that can volunteer a spare seat or two!
Q: What is the dress code at Scor!?
A: We have no code! Dress casually and comfortably. At Rochester Scor!, we make our final music-sharing event festive by wearing colorful Scor! shirts.
Q: How do I fly with my instrument?
A: Consider the following... and in some locations, you can rent an instrument through Scor! We'll have it waiting for you when you arrive, & we'll return it when camp is over. If you bring your own instrument, here are issues to consider:
Case: Make sure you have a good quality case, with a suspension feature which cradles & supports the instrument well.
Checked Baggage? Never (NEVER!) put a stringed instrument through checked baggage unless it is in a special flight case.
Getting Through the Airport: Lugging larger instruments through an airport is not fun if you don't have a wheeled case.
Gate Checking: If you can't take your instrument on board, you can gate-check it. We don't recommend this, since we've heard of incidents where serious damage has occured. Again, make sure you have a good case.
Insurance? You may want to consider whether you have your instrument insured with dedicated instrument insurance in case of damage.
Flight Cases: Cellists & bassists, you can buy a flight case (which you'd then check). These are expensive, heavy contraptions with airbags that run in the $1000s. If you know professional cellists or bassists, they might have a flight case that you could rent or borrow.